Hog Roast Catering For A Wedding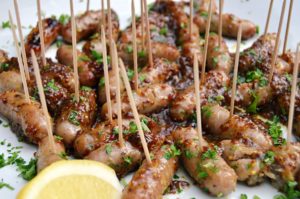 Absolutely, there is no reason whatsoever why hog roast would be anything but perfect for a wedding breakfast. Of course, that is not how a lot of people see it. Many people hear the words hog roast and jump to some conclusions, most of which are wrong of course.
This is a big shame because it could mean that many people dismiss hog roast as an option for a wedding when the reality is that it makes a perfect dish for this most wonderful of occasions.
Hog Roast Is More Than Just 'Pig In A Bun'
It could be something to do with the fact that many people are familiar with hog roast being served at pubs or hotels and private functions. Perhaps they see it as 'not being special enough for a wedding' because it is served on a roll as 'pig in a bun', but just because that is how it is served up at these events, it does not mean that you have to serve it that way at a wedding too.
Of course hog roast rolls would not be in keeping with the traditional formal style of a wedding breakfast, where chicken and beef dinners usually dominate. So, where's the catch? There is no catch, it simply requires the chef tom work their magic and make this hog look a little bit special. Welcome to the world of the gourmet hog roast!
Fantastic Food Your Guests Will Love
Sounds good, doesn't it…but just wait until you see it. Gourmet hog roast is roast pig served in its Sunday (or Saturday) best. You see you don't need to eat hog roast in a roll, hog roast also makes a spectacular meal when served in a very formal style. Just imagine this and try not to lick your lips whilst reading it. Take a slow roasted hog roast and carve professionally so you have exquisite slices of succulent, aromatic hog roast meat.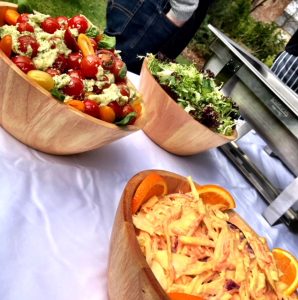 Serve this with a selection of beautiful vegetables together with roast potatoes, crackling, apple sauce and stuffing and you have a simply superb wedding breakfast meal that would not look out of place in any of Preston's top restaurants. And as for taste, the hog roast meat will blow your guests away with its juicy, melt in the mouth texture. It really is a meal to die for and one that many other couples would surely plump for if they could look beyond the preconceptions.
Hog Roast Gourmet Wedding Menu
The hog roast gourmet wedding that we offer menu gives you plenty of options when it comes to organising your special day so why not do something truly wonderful at your wedding and choose the very best in superb British cooking by going the whole Lancashire hog and going for a stunning gourmet hog roast. And don't forget, if you want to put on some food for the evening reception then you can always lay on a hog roast for that, too! Bring a little hog roast Preston pig power to your once in a lifetime event!