Hog Roast Cottom were very excited by the premise of their latest catering event, it was an important event that the team really took to heart. They were contacted by their clients to cater a buffet for a guest list of 100 specially invited guests from the local community and council, to celebrate the opening of a new library. At a time when lots of business and public amenities are having to close, due to financial crisis, the team were very excited to be asked to cater for such a hopeful and optimistic event.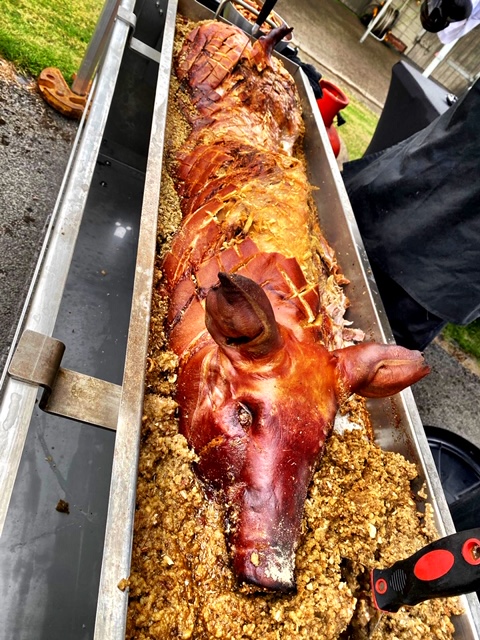 With the serving time set at 3pm the Hog Roast Cottom Chef knew that he had to be on site at the brand new, state of the art library building/facilities by 10 o'clock in the morning at the very latest. The reason for this was because all of the tasty buffet dishes were prepared fresh at the venue before the event commenced. As well as providing the equipment, Chef and food, the Hog Roast Cottom team also supplied high quality disposable crockery and cutlery for the guests and clients to use. 
The menu the clients created with suggestions and input from the Hog Roast Cottom team was full of delicious dishes. It was also inclusive to a whole host of dietary requirements, thus the buffet included tasty vegetarian and vegan options.
The main offering at the buffet however, was the Classic Hog Roast. This comprises of: a succulently slow roasted pig, crispy crackling, stuffing, apple sauce and a variety of soft gluten free bread rolls. There were also grilled vegetable skewers and grilled vegetable and halloumi skewers available. But that wasn't all; there was also coleslaw, pasta salad and Hog Roast Cottom favourite: loaded fries.
The opening of the library and subsequent buffet was a massive success, the clients and their guests all had a wonderful time. After the food had been eaten the Chef discreetly tidied away all the rubbish and equipment, leaving the clients to continue with their celebration.