This week Hog Roast Warton were out in the countryside helping out at one of Warton's local companies annual team building event! Our brief had been to provide some delicious slow roasted food to end the days activities which would see employees and bosses alike work together to traverse high ropes, build towers and complete obstacles…
As we arrived on site, we quickly set up our trusty machine beside the campfire area and got to work as we knew after the adrenaline fuelled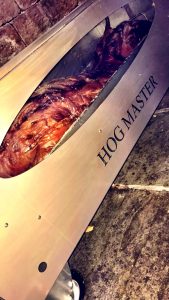 events of the day everyone would be in need of some traditional, hearty food. We set up a hog that we would be slow roasting throughout the day and our chef made sure to score the skin and added lots of sea salt to ensure that perfect crispy crackling forms during the cooking process. We also prepared lots of seasonal vegetables to roast in the tray with the hog. Then all that was left to do was prepare our famous homemade applesauce that we serve in lashings with the hog as it just makes it that little bit more heavenly. As we would be serving around the campfire we made sure we had brought along some marshmallows for everyone to roast too!
Finally, serve time arrived and we couldn't help but laugh… whilst making a bridge to traverse a muddy swamp one team hadn't tied the rope tight enough, leading to all eight of them falling into the mud and they were now covered head to toe! At least they could bond over how ridiculous they looked and of course nothing brings people together like good food so we made sure we gave them all an extra helping of the Hog Roast Warton!
Soon the Hog Roast Warton had been devoured and there was nothing to do but to discretely clear away and pack up our machine after another job well done.