Martin's birthday party on Saturday is likely to be the talk of the town for a long time to come – and all because of our lovely hog roast Preston. Thrilled to have our hog roast Preston catering services for his birthday celebration at the weekend, Martin asked us to provide a small pig to feed 20 guests at his home. There would usually be plenty of leftovers but the sublime smells of our cooking drifted to some of Martin's neighbours, who couldn't resist finding out where they originated, so 20 guests turned to nearly 30 by the end of the day!
Booking us for our simple yet luscious hog roast Preston rolls a few weeks ago, Martin asked about a possible gluten-free option for one of his guests. We only need to provide gluten-free bread rolls in this instance, as the rest of that menu is already suitable, so Martin was happy that the guest could still enjoy the same food as everyone else. As well as the pigs in buns and extra gluten-free rolls, he ordered a couple of garden salads that we would prepare fresh on the day.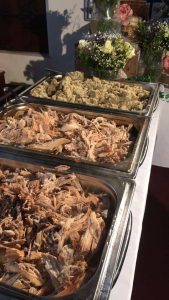 We started cooking the pig on Saturday morning so that it would be ready for serving at lunchtime. We cook the meat at your chosen venue, rather than in advance, as you can taste the difference with fresh, quality ingredients. It's actually fairly easy to use our hog roast machines, and once the meat is prepared, it's just a matter of turning the machine on and repeatedly checking that it's cooking. While keeping an eye on it, we watched as the garden and inside the house were decorated and chatted to guests as they arrived. Several neighbours turned up wondering about the aromas and were welcomed to the feast by the birthday boy, as he said there was plenty of food and plenty of room.
By the time we had finished, we had fed about 30 guests, who all had positive feedback about our brilliant food and excellent service. That's what we aim for and a chef like myself couldn't ask for better compliments.