On a beautiful summers day, one of the best things to do is enjoy delicious food with your friends and family! Hog Roast Freckleton have created a fantastic alfresco menu, which combines buffet catering with table service- to create a perfect catering experience! Here is what to expect when you book our alfresco menu for your summer party…
The first course of our alfresco menu consists of shared platters served to your guests at their tables. Sharing platters are an excellent way to provide your guests with a lot of different food options, that can be presented in a beautiful way. Our platters include a selection of fine cheeses, slices of cooked meats, breadsticks, vegetables, salads and crusty bread, served with olive oil and balsamic vinegar. This is a delicious selection with something for every guest to enjoy- which is why they are a much-loved starter for private events!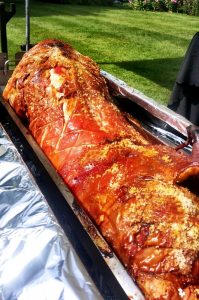 For the main course, we provide our Hog Roast Freckleton speciality: a slow-roasted pig. Your pig will be cooked to perfection at your venue for over 6 hours, ensuring delicious flavour throughout. Once we have carved the meat it will be served in a selection of fresh bread rolls and wraps, with your choice of salads and side dishes. Some of our most popular side dishes include mac and cheese, new potatoes and roast potatoes. This course is served buffet-style, allowing your guests to choose their perfect meal.
Following on from the main course, our waiting staff serve your guests their chosen desserts. We offer a variety of tasty desserts, including profiteroles, fresh fruit salad and sticky toffee pudding. All of our desserts are beautifully presented and served with fresh cream and berries.
If you're planning a summer party, why not book our alfresco catering menu? To book your Hog Roast Freckleton catering today, check out the enquiry form on our website. All we need to know is your party size, location and date, and we can begin planning your perfect menu!