Being hired as a catering company is a very important aspect of any event. Good food can unite people and can be a great talking point among colleagues, family, friends and strangers! Because of this, it is important to do all we can to ensure your event catering runs as smoothly as possible. Here are Hog Roast New Longton's top tips for successful event catering…
Cater specifically for your guests
The catering you provide needs to be specifically tailored to the guests that will be eating it. For example, if the event is family-friendly, you need to ensure there are dishes for younger guests to enjoy, as well as adults. If the event is a formal dinner, you should select formal dishes that are presented spectacularly.
Consider all dietary requirements 
Not considering all dietary requirements is an easy mistake to make as a caterer, but it can leave a lasting impact on the guests and your catering overall. You should have at least one dish for a host of dietary requirements, such as gluten-free, dairy-free, vegan, vegetarian and common food allergies such as nuts.
Ensure your staff are dependable 
At Hog Roast New Longton we know we can rely on our chefs and waiting staff for any events. Having dependable staff is the best way to ensure that the catering runs smoothly since they can adapt and overcome any problems that may arise. They will also be the face of your company, so it is important to be friendly and approachable yet still professional.
Consider whether your catering matches the theme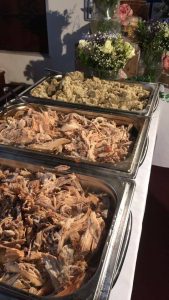 If your event has no theme then you don't need to worry about this one! However, if there is an overall theme for the event, it is important to discuss this with the organisers beforehand and see whether they have any specific requirements for the food you provide. For example, do they want your catering to be era-specific, such as 80s or 90s?
Here at Hog Roast New Longton, we cater for a wide range of events, including both corporate and private parties. To book your catering today, simply let us know your location, date and party size- and we can do the rest! We hope to hear from you soon.