The recent lockdown has left many older people facing feelings of intense loneliness and a desire to have human contact. Hog Roast Bretherton's latest event was a Bretherton initiative to combat the intensely isolating experience many of the populace just went through. The event was for 25 old age pensioners who had not been able to go out and be surrounded by company, the lucky guests were given a delicious buffet at the Bretherton town hall.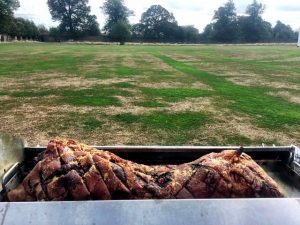 The clients of this event wanted the food to be filling and hot, ensuring that when the elderly guests were dropped off at home after having tucking into the buffet they had eaten a good hot meal. As the guests for this event were classed as vulnerable people the Hog Roast Bretherton Catering Manager did not remain onsite, all the platters were prepared at the Bretherton kitchens and then transported to the Town Hall for the 6pm serving time. This was done in order to safeguard the health of those lucky guests who attended the fun evening.
The menu for the buffet had lots of tasty treat included on it. While the client's were keen to ensure that the menu was balanced and healthy, they did want it to be a treat and something out of the ordinary for the guests. The team worked closely with the clients to concoct a menu that was exactly that.
So that there was something for everyone to enjoy a lot of the menu was vegetarian, however there was two tasty meat dishes for the guests to choose from. They could have either Chef's own gourmet sausage, or BBQ beef burgers, both of which were delivered piping hot and wrapped up safely. There was also baked potatoes, grilled vegetable skewers, coleslaw, fresh green leaf salad and individual vegetarian mini quiches.
These perfect platters arrived at the venue all ready to be served to the guests. The Catering Manager simply delivered them to the client and they took over from there. It was an event that the team felt strongly about, wanting to give the loneliest people in society an evening they would remember for a long time to come.