We all remember our 21st birthday (or perhaps we don't, if your party went as it is usually supposed to). It is the moment when you really get to step out of your adolescent years into proper adulthood and your twenties, which is why so many of us opt for a birthday celebration a cut above your usual annual parties.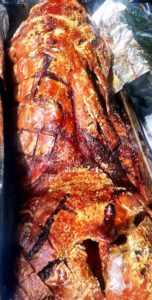 Hog Roast Penwortham is here to help you ring in that important date in proper style. For birthday parties Hog Roast Penwortham have a stylish dining experience that will keep the party going long into the night. Forget your night out to the pubs and clubs, or your quiet celebration at home; your 21st is all about making big statements and celebrating the right way, and a hog roast dining service and an exceptional feast on us is certainly the way to do it. Many 21st parties are held in event halls and are a perfect blend of dancing and dining. For many of the 21st parties that we have catered to our guests opt for a grand buffet to be held next to the dance floor so that there doesn't need to be much interruption to the party jams and dance moves, and so that those moves can keep fuelled into the night.
Our dining services work around your event, so however you might wish to celebrate Hog Roast Penwortham  will be able to accommodate our catering to fit. While you and your friends cut it up on the dance floor perhaps mum and/or gran will just want to sit by the side-lines enjoying great food. Hog Roast Penwortham can make that so. With us there is something to be enjoyed for everyone. It's your birthday, your event, so enjoy it your way with the flexible bespoke dining service of Hog Roast Penwortham.
Of course this isn't limited to the younger 21's. Got a 50th coming up? Hog Roast Penwortham has a feast for you to enjoy too (we just know the old dance moves might just be that little bit slower…). Or it doesn't have to be a landmark year – little to no excuse is needed for wanting our great tastes, so just call today whatever the occasion!