When Lorraine and Thomas tied the knot thirty years ago, they never imagined that they would be celebrating their pearl wedding anniversary at home. But unfortunately, with strict lockdown measures still in place, and rules and regulations surrounding every gathering, the ultimate family get-together they had been dreaming of was completely off the cards. At least for this year, anyway. Instead, they agreed to keep the celebrations small, with just a handful of loved ones to assist them in marking the special occasion.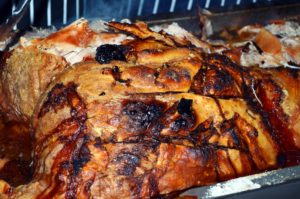 With six of them preparing to commemorate the day, Lorraine and Thomas soon found themselves discussing the subject of food. After all, an event, no matter how big or small, is never complete without some lip-smacking grub to dig into. But on such an important day for their marriage, the pair quickly figured out that the last thing either of them wanted was to spend the whole afternoon in the kitchen – and who could blame them?
Lucky for them, they were soon pointed in the direction of Hog Roast Brindle. Following an unforgettable experience with us last year, their family friend, Isabelle suggested our services to the happy couple for their anniversary lunch.
So, in the final weeks before the event, Lorraine and Thomas got in touch with our team to ask about our expansive catering options. Almost immediately they showed an enthusiasm for our newly-established Gourmet Delivery service which has been making waves since it was first introduced a few months ago.
Freshly prepared, authentic hog roast flavours from Hog Roast Brindle, delivered straight to your doorstep is a sure-fire way to make any occasion feel extra special, and for Thomas and Lorraine, this felt like the perfect fit.  From the vast selection of menu options, the couple opted for a packaged version of our private party menu 3, which features slow roasted pork with side salads, warm new potatoes and yummy coleslaw. As an added treat, the pair had even ordered a dessert option of gooey chocolate torte.
Hog Roast Brindle knocked it out of the park with this booking, and Lorraine, Thomas and their cluster of guests were amazed by the exceptional quality of the food.