For many couples, getting married is a massively important step in their relationship, as to them, it shows how strong their commitment is to the world around them. And the wedding itself is a great way to bring family and friends together again so that they can enjoy each other's company – particularly those you rarely get the chance to meet up with. So, with all of that in mind, it doesn't really seem fair that the fun should be done and dusted in a single day, especially when you consider just how quickly weddings seem to fly in!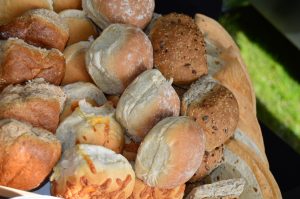 As a result, the expectation that a wedding should last just one day is slowly disappearing in many circles, as more and more brides and grooms opt for multi-day events, which gives them the chance to really soak up the feeling of being newly married and stave off the wedding blues for a little while longer. But it's not just the bride and groom who benefit from extended nuptials; guests too love having the time to reconnect with friends and family and form new relationships.
More recently, Hog Roast Goosnargh has been noticing the growing trend of extended wedding celebrations for ourselves, and we've been loving it! Just last weekend, our crew found themselves out in the sticks for Alfie and Claire's rustic wedding, which spanned three whole days (Friday-Sunday) and was attended by 185 guests.
The ceremony took place on Saturday, which left Friday free for a tasty pre-wedding feast consisting of Hog Roast Goosnargh's famous slow-roasted pork rolls, which were completed with savoury stuffing, crackling and applesauce. The meal was followed by dancing, karaoke and a much-needed catch-up before the guests took themselves off to their different cabins for the night.
On Saturday, the day of the wedding, Hog Roast Goosnargh spent the entire morning working on our Southern Slow Roast Menu. With three tantalising meat options to choose from, side salads, mac and cheese, coleslaw and mixed fries, there was something on offer for each and every guest. Better still, the flavours were out of this world, which made the group all the more excited to tuck into the same menu the following day.
Thanks to Hog Roast Goosnargh, Alfie and Claire's extended wedding was everything the pair hoped it would be and more! The guests were extremely happy with the variety of entertainment options available, and everyone was won over by our incredibly tasty recipes!