The workday in the office is tough enough without the fear that you're missing out on some brilliant sunshine outside. When the sun is shining there is no where else we'd rather be than out in the park with a bite to eat and a small drink to enjoy, and a stuffy office on a Wednesday afternoon can feel like a million miles away from that blissful scene.
For our local partners, Glenn and Sons Contracting, that didn't need to be the case however! Lee Glenn decided that rather than missing out on the sun they would bring some of that summery enjoyment to the office itself by throwing an impromptu barbecue in the afternoon. As Lee told us, the team had been working extremely hard of late and made some great progress on some lucrative additions to the business, so they more than deserved a slight break for the afternoon to enjoy the weather and a brilliant barbecue. And, so, he called up the Hog Roast Greyfriars team and asked if we could get to the office with a days' notice. Often this can be quite tricky for us since we have prior bookings to fulfil and tend to need a longer lead time to crunch out details, but since Lee and his business have been a part of our corporate catering partner program for some time we were able to fast track his order and deliver him the priority service that we promise in our deal. So, it wasn't long before the Hog Roast Greyfriars team was off to Lee's office, barbecue and foods in tow!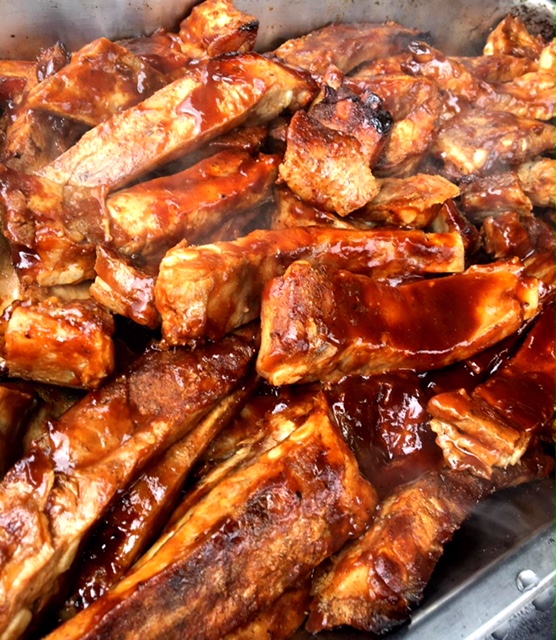 Lee had decided to leave the announcement of our lunchtime barbecue as a surprise, instead telling his team that they needed an all hands meeting just before lunch. Imagine their surprise when instead of a meeting they were met by the cheery face of Our Catering Manager and a barbecue in progress, with gourmet sausages, handmade burgers, chicken skewers, BBQ marinated spareribs, and veg and halloumi skewers all already sizzling away on the grill!  Accompanied by fresh Greek salads, gourmet coleslaw and a mix of regular and sweet potato fries. What a way to enjoy a Wednesday afternoon huh!?
If your office team is in need of a pick me up then don't hesitate to call Hog Roast Greyfriars today for similar treatment!