Hog Roast Penwortham is often asked to cater birthday parties for both young and old, with many people celebrating milestones like a 16th, 30th or 80th birthday with their family members and friends and a delicious hog roast cooked by yours truly. Whether you're thinking of a plated hog roast meal, together with seasonal vegetables, potatoes, stuffing, apple sauce, crackling and our special onion gravy, or our amazing pigs in buns, with bread rolls and wraps filled with fresh, hot meat and all the trimmings, our hog roasts will certainly wow your guests whatever the occasion.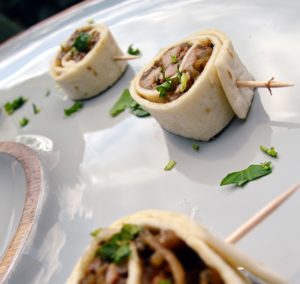 For a 60th birthday party that Hog Roast Penwortham catered on Saturday, our dedicated chef and team members cooked up a real feast for all the senses and even dressed up for the occasion. Dorne had asked us to roast a hog to make a meal with some veg and new potatoes for her own birthday celebration, which had a Downton Abbey theme, where everyone invited would be wearing 1920s fancy dress. We often cater themed parties and for this particular one, when Dorne asked if we'd like to join in by dressing up too, we thought it was a great idea!
On the day of the party, our Hog Roast Penwortham chef and team arrived at Dorne's home several hours before we were due to serve, so we could prepare the hog in the large back garden and get it slowly sizzling away for an age. Dorne had also asked us to freshly make some tasty canapés to serve as the guests arrived, including roast beef in Yorkshire pudding, Peking duck wraps, smoked salmon and wild mushroom bouchees, which we started on later on in the day.
We always make sure to keep checking on the hog throughout its roasting process, to see it's cooking thoroughly both inside and out and by mid-afternoon, it was time to add the freshly-prepared vegetables and potatoes to the inside of the machine. Later on, while the meat was resting before carving, the guests arrived in all their splendour, ready to party the night away Downton Abbey style, and we served the canapés, and then finally it was time to impress the guests even more by serving the scrumptious main course.