Hog Roast Farington's catering manager and team are wedding specialists, their duty is to ensure the most delicious spread of food for you and your guests to enjoy with superb service. A popular enquiry at Hog Roast Farington's is always a wedding enquiry!
Once you have been wed, Hog Roast Farington's team will serve your reception drinks to you and your guests. You provide the drink; they provide the service. While your guests enjoy their drinks, a team of waiters/waitresses will walk around with a selection of canapés. These are beautifully displayed on rustic wooden boards. You will have the selection of five canapés for you and your guests to enjoy. For example, you could enjoy a scrumptious halloumi and roasted tomato crostini, a slice of fillet beef swirled into a mini-Yorkshire pudding with a dash of horseradish, or a tasty beer battered fish and chip canapé. All the canapés are prepared fresh on site by the chef and are as equally delicious as the other, whatever you choose you are in for a treat!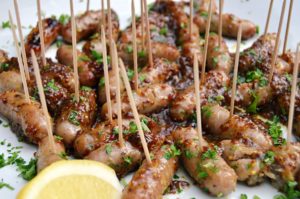 Usually, the canapés are served while the bridal party have their photographs taken. If you are running late or even early with any events during your day Hog Roast Farington can easily adapt to the changing circumstances. Normally after the photographs have been taken the bridal party and guests take a seat ready for the main course. The main course consists of two tender and succulent meat options, a choice of three flavourful salads or seasonal vegetables and a tasty potato option, all decided by the couple before the event. The whole roasted pig or lamb are people's favourites and go down exceedingly well with guests.
Once the main has been indulged by everyone, desserts will be served. Hog Roast Farington does a 50/50 selection of two desserts so that your guests have an option. All of them are fully indulgent and a real treat! Served with cream. The lemon tart is particularly refreshing on a summer's day and the profiteroles are always a crowd pleaser.
After you have done the official cake cutting, Hog Roast Farington will slice it and plate it up for you with a drizzle of coulis, fresh summer berries and the option of fresh cream. It makes a lovely snack between the wedding breakfast meal and any evening food. It especially goes down well served with the addition of tea and coffee!
Of course, before your event timings and your selections of each course will be discussed in depth so that the day will run smoothly for your piece of mind. This can be done via telephone, email or even in person.